Sandals Jamaica : Royal Caribbean - What's It all about?
Getaway for 2 in Jamaican Paradise
Pick up a Pina Colada and let's get to it...Ya Mon!
Ahh the love I now have for jerk chicken is not healthy…. I mean, I could have stayed and just worked the jerk shack for life I think and been content! The jerk may have been the 2nd best thing on this trip, next to the clearest water I personally have ever swam in. You really cannot imagine how crystal clear it is until you experience it for yourself. If you go to a Sandals resort and do not come back a few pounds heavier and outrageously sad to leave, then you did something wrong!
Have you been to a Sandals Resort before?
For those of you who are not familiar with Sandals Resorts, they are luxury all inclusive resorts for adults that are located all over the carribean. The original is actually in Jamaica, Montego Bay, but the one we--me and my boyfriend--stayed at is just 10 minutes down the road and it is called Royal Caribbean. With their all-inclusive it includes unlimited food that range from snacks, casual dining and fine dining if you wish along with alllll the yummy drinks you can imagine! My FIRST (and currently only) all inclusive trip was this vaca, and I do not think they made money off of me… ha!
Leaving the Country in the Middle of the COVID Pandemic
We took this trip amid the pandemic back in September of 2020. My birthday is in March and we had planned a trip down to San Antonia, but due to COVID it got cancelled a few days before. I was honestly quite pissed so I said fu$k it, we're going to Jamaica! I had never been to this kind of resort before, and thought it would be something neat for my boyfriend and I to experience. I myself had already been out of the country, but he had not so we had to hurry up and get his passport ordered and all squared away.
Royal Caribbean was actually not my first choice asI had booked us at Grenada, a small and not so popular island south of Puerto Rico, north of Venezuela. The flights to get to Grenada were honestly a complete pain in the ass to book. I had to book 4 separate one ways to get the times I wanted, which honestly was very stressful, but I also did not want to waste days staying overnight waiting for the next flight the next day. As COVID got worse, Grenada closed its borders to the U.S. so this was sadly cancelled,but Sandals allowed me to switch locations which I then landed on Jamaica!
I said fu$k it, we're going to Jamaica!
How to choose the right Sandals Resort?
Talk about stressful… I think I spent 2-3 weeks, 3 hours a night just googling around for which resort to stay at. I came across a few resources that did a absolute fantastic job at explaining the differences which Is how I ended up deciding! Also, since it was middle of a worldwide shutdown basically, I was limited to only countries that would even let us in. I think at the time we were not able to go to Barbados, Grenada, and then three of the Jamaica resorts were closed while the other three were open. Do I regret stressing and going mid pandemic? NOPE! I hate to be this person and so "basic" but life really is SHORT and I did not want to just keep waiting. Who really knew when the pandemic scare would be over, and if it would get worse? We didn't!
When deciding which resort to stay at you need to ask yourself a few questions :
Are you looking for more of a quiet romantic experience with your partner? Or more of a social space?

Big long beaches? Or quaint little coastal spots?

Busy big pool, or private dip pools?

Would you like to stay in a overwater bungalow?

Going for the golfing?

Scuba diving on the list for must do's?
Each resort fills different needs and wishes, but all amazing in their own unique ways.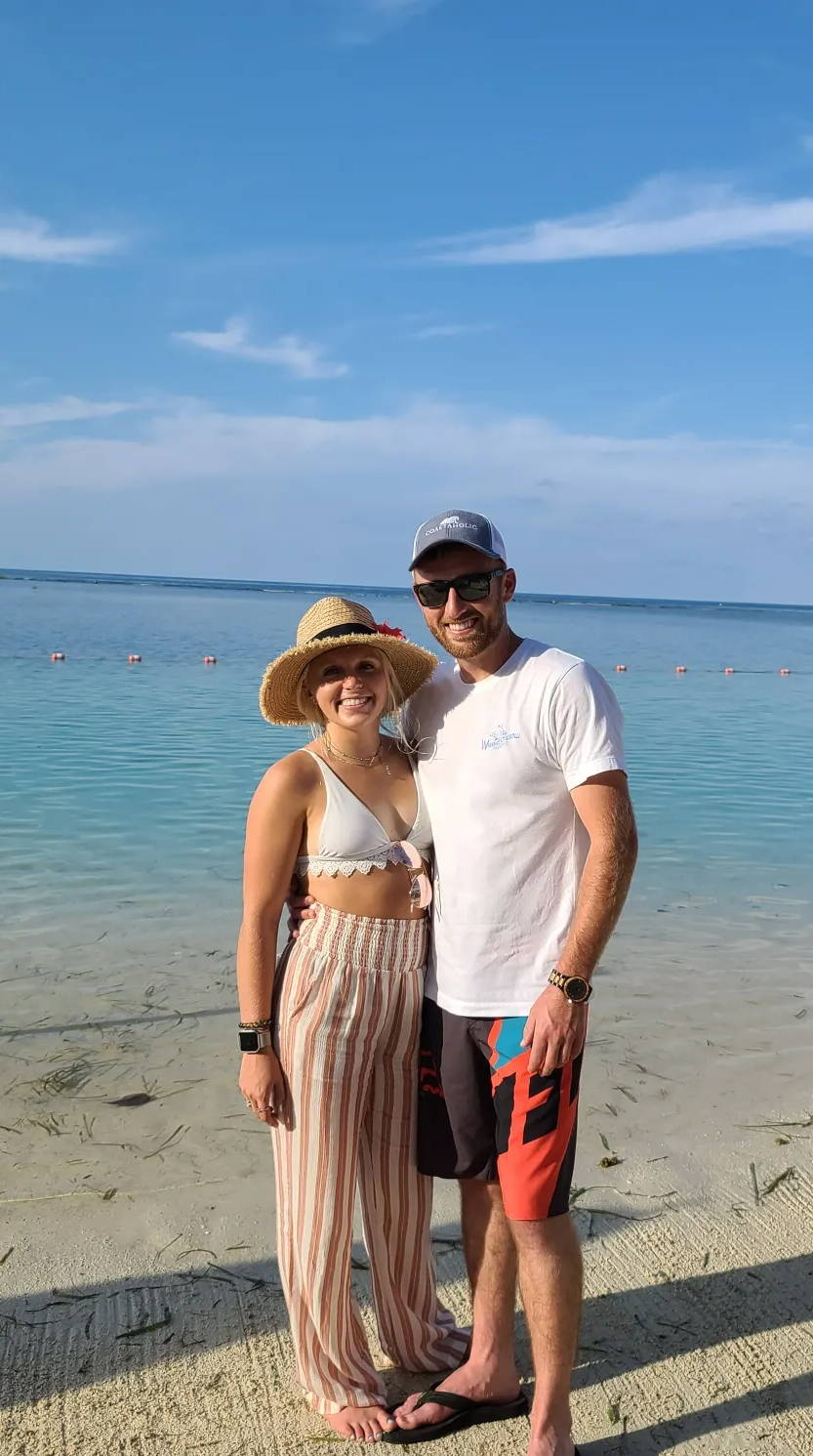 The room we stayed in was the : Romeo & Juliet Walkout Butler Suite with Patio Tranquility Soaking Tub - WGBT
I personally wanted more of a quaint, quiet place that had more up to date and newer rooms with a soaking tub, on ground level and close to the ocean. Pricing did play a factor too… the suite I had booked at Grenada was nice, but for the same price at Jamaica Royal Caribbean I was able to REALLY upgrade, as the pricing was cheaper to stay! Knowing how much more remote Grenada was though, I assumed that was the reasoning behind the price jump. So, in the end I paid less for flights ( well, I do not pay for flights and I will explain in another blog ), but also got a total upgrade in room for the same price!
For more details on our room, pricing, and amenities check out :
https://www.sandals.com/royal-caribbean/rooms-suites/detail/?categoryCode=WGBT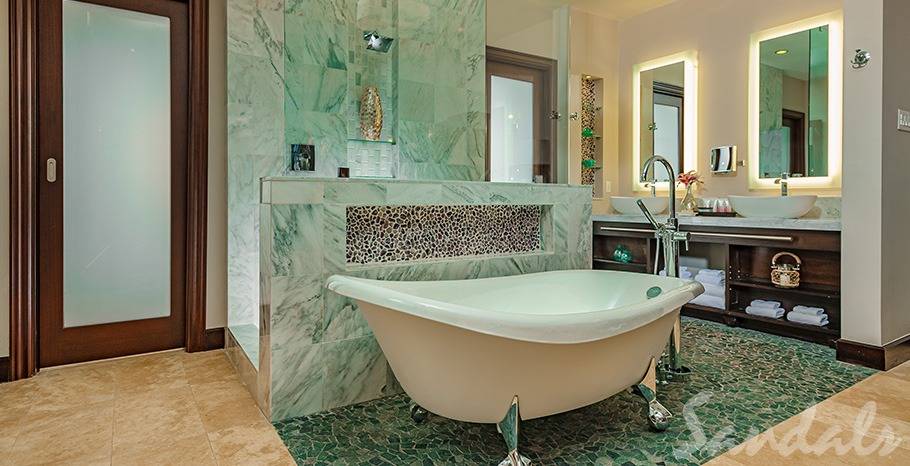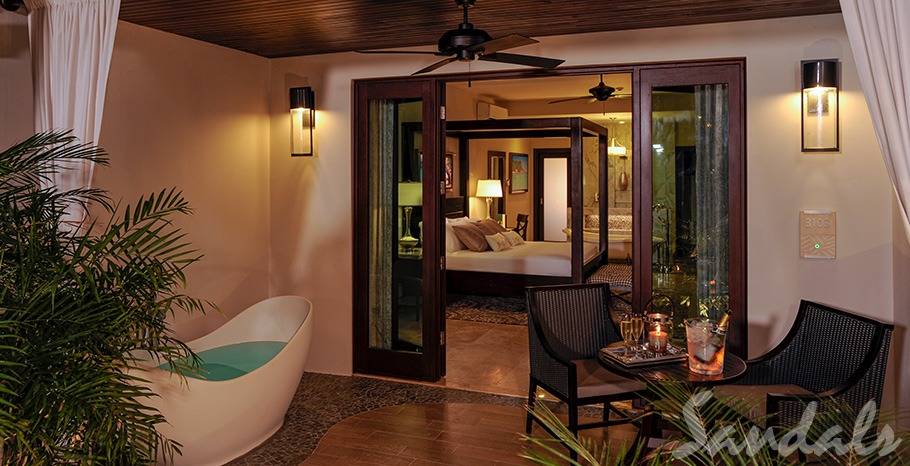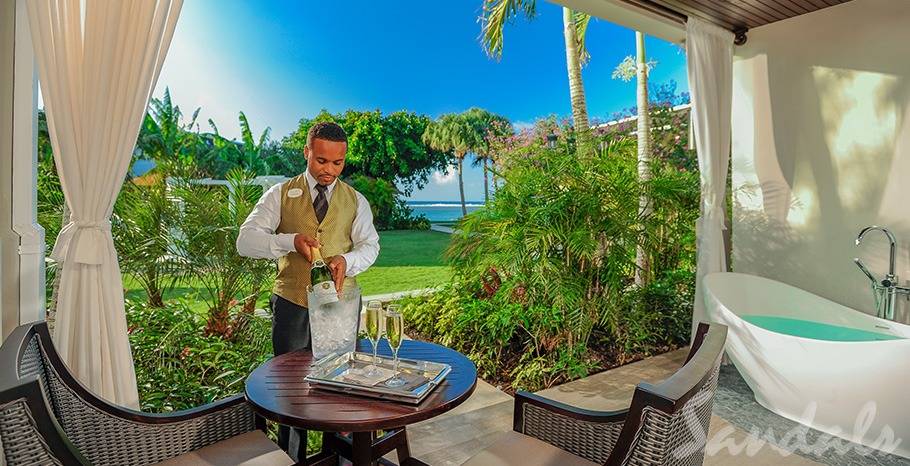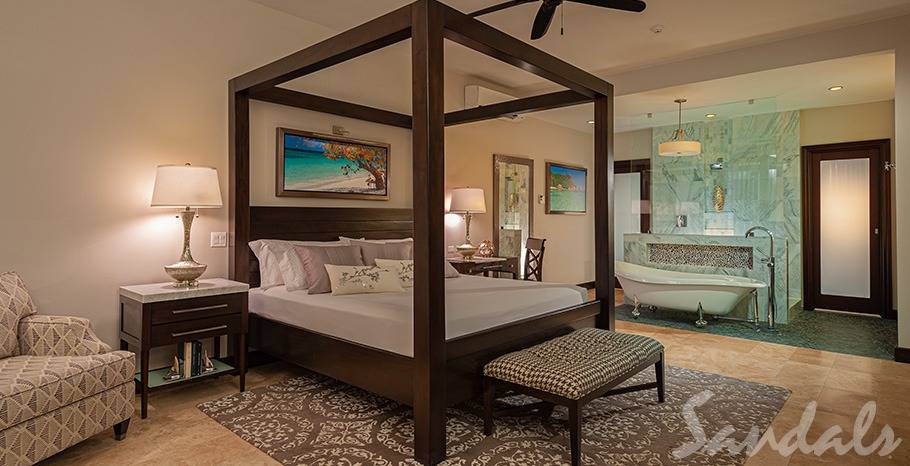 What exactly is a "Butler Suite" and is it worth it?
At first I was like what? A butler for my room and stay?.. hmm not sure about that! But after reading some reviews, I pulled the trigger and used a room that included one. HUGE shoutout to my man Sheldon who was our butler during our stay. He was AMAZING! I would 100% recommend this during your trip. They will and can handle planning any excursions for you, dinner reservations, any questions, and are always having drinks and food ready wherever you may be!
I remember one day we were just hanging out on the beach relaxing and Sheldon popped in with these "Jamaican Burgers" and some frozen drinks. The burgers were not something I had even heard of or thought to try but they were AMAZING!
Before the trip we filled out a questionnaire of snacks and drinks we liked, so that when we came to and from our room throughout the day, Sheldon hooked us up with the goods. They do work for tip, so just remember to tip your butler well and don't forget it!
Which Jamaica Resort is the BEST?
After deciding on the country of Jamaica we had to decide between the 6 resorts they have on the island.. Yes 6! Jamaica has more Sandals resorts than any other country, and we were told by our driver they planned on adding another 2-3 in the coming years! HECK YES! The 6 resorts in Jamaica are Montego Bay-the OG, Royal Caribbean ( also located in Montego Bay), Negril, Ocho Rios, South Coast, and Royal Plantation ( also located in Ocho Rios ). Each is slightly different and after seeing that at the time Negril, Royal Plantation, and Ocho Rios were all closed because of COVID, I decided on the Royal Caribbean and booked it!
Royal Caribbean is the smallest of all the resorts, a bit more quiet, and very relaxing. It still has the hustle and bustle of the fun nightlife events just like all other Sandals resorts, but being the smallest it is not so busy which was fantastic! When I decided I wanted to go to a sandals, I was not going for the "party" I was going for the quiet relaxation and that is exactly what we got here. I also loved that we were able to bus over to the Montego Bay Sandals and eat at their restaurants as well, only doubling our food choices. This was a big reason why I chose this resort, because the vacation for me was all about the eating and my options.
It is an all Inclusive resort, but there are extras you can pay for. We ended up buying two extras, which was the photoshoot ( free, but you buy the photos ), and then we hit up the spa. We had never taken any professional couples photos before, so we thought why not do it in one of the worlds most beautiful places? The second extra spend we did was the Redlane Spa, which was a fantastic experience! Neither my boyfriend or I had been to a spa before, so thought why not! We ended up doing the 90 minute, Raindrop Dreams massage which was a full body essential oil massage experience. Loved it, and would do it again ! 10/10 recommend, but then again I have nothing to compare it to so if you are a usual spa and massager goer, you may feel different but personally my boyfriend and I loved it.
My Sandals Review - Would I do it Again?
Yes, the short answer is YES I would do it again! That being said I am someone who likes to "switch it up" so I would go to another resort, probably the Grenada one I originally wanted to visit, or the Barbados as they are the newest I believe. It is a great adult only place and it's well worth the money and trip.
MY RATING:
ROOMS : 9/10

Nothing bad to say, they were very nice. But, they should have done the shower a little different because it didn't have sides and my boyfriend literally slipped and fell on his back, and it was quite scary.

FOOD : 9/10

Not 10/10 because it could have used a few more lunch spots or options. But the dinners and breakfast was amazing! - I will note, I was told later on there was a lunch buffet spot but I never saw it there or knew about it.. so could have been advertised better.

STAFF : 10/10

The absolute best. Not sure if all Sandals island are like this, but the Jamaican natives are the nicest people. I even added one of the staff to my instagram! ha

DRINKS : 10/10

The frozen drinks were to die for, and they could make anything you wanted

EXCURSIONS : 10/10

We only did one-snorkeling- but it was so fun and amazing! I loved they were super strict, it was like your adults go swim and have fun.

SPECIAL REQUESTS : 10/10

Anything we wanted, they would get. I legit wanted ice cream at 11pm and I got some! - Yes, I am a child at heart and will always want late night ice cream.

OVERALL : 9/10

I give it a 9 vs a 10 just because I think a few things could have been updated, but overall it was fantastic. I also wish they didn't let the local drug dealers float out on their kayaks to try to sell us stuff, but I realize they do not own the waters... it was interesting to see though! (No, we did not partake in the local green but it did cross my mind lol) I also have been to quite a few amazing destinations across the U.S. and a few others out of country, which were top of the line hotels so I am only comparing it to that. But overall, I cant complain and I would do it again and again.
Stay tuned later for a FOOD & DRINK blog about each and every meal, which restaurants to skip, and the favorite meals at each!
Let the deals & experience tips flow in like the ocean on a windy day! We are excited to add you to the crew.
---